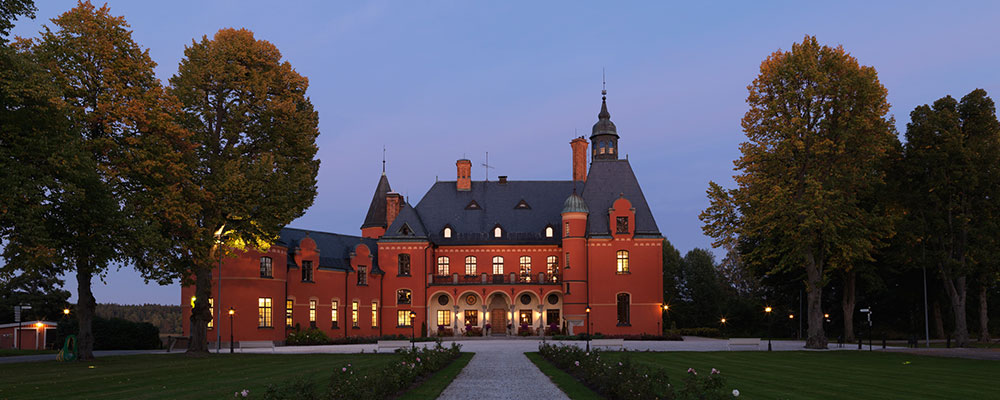 The location for your UGL course, Lejondal Castle (in Swedish; Lejondals Slott), by Bro outside of Stockholm is one of Sweden's newest castles and construction was completed in 1892. It was built by the baroness Louise De Geer on a property whose history dates back to the early 15th century when the land was owned by the English queen Filippa.
In 1918 the castle was bought by a business man who equipped it with central heating. He first wanted to donate the estate to the Red Cross but they declined due the high operational costs. It was later bought by the Stockholm City Mission who had different kinds of activities and operations there during 30 years. It was sold on in 1974 and after first being meant to be used as private living quarters it turned more and more during three different ownerships into the conference facility which it is today.
Accomodation during your English UGL course
There is a total of 102 rooms of different sizes. You have your own room during your UGL training and all rooms have their own shower and toilet as well as TV, telephone and hair dryer.
All the rooms have access to free wireless Internet.
How to find your way to Lejondal Castle
If you arrive by train you can take the commuter train from Stockholm Central Station to Bro Station. From there you can either get a bus for about 5 minutes depending on the time of the day and then walk about 20 minutes or you can take a taxi which takes about 7 minutes. Contact the castle if you want help with booking a taxi.
If you arrive by car it takes about 40 minutes from Stockholm, and you drive E18 towards Enköping and use exit 149 where the is a sign for "Bro". Drive straight through the first roundabout and then follow signs for Lejondal and Lejondals Slott. From Uppsala it takes a bit less than an hour to drive and from Västerås a bit more than 50 minutes.
Learn more about Lejondal Castle
To find out more about Lejondal Castle, please visit their website at https://lejondalsslott.se/en/.