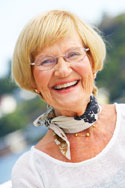 For years UGL has been the most popular leadership training in Sweden.
It is now available in an international version for the first time.
Here are some testimonials from previous participants.
What participants are saying about UGL
UGL helped me with my self discovery and made me grow as a human being. That much assurance and rewarding meetings with different indiviudals during five days, almost nobody gets that much during a whole life time! After attending UGL I feel much more present and pay more attention to the qualities I desire. What I mostly learned was to allow more inward time and to listen more attentively. THANK YOU!

Sanna Murray-Salander
Amazingly developing and rewarding. An important piece of my leadership puzzle.

Patrik
UGL gave me new perspectives.

Ann Piates
Everybody who participates in UGL with open eyes and willingness to learn, simply can not avoid growing as a person.
If you decide not to take the word of others for it, but want to experience it yourself, head to the page with dates and prices to find a date and location that works for you.