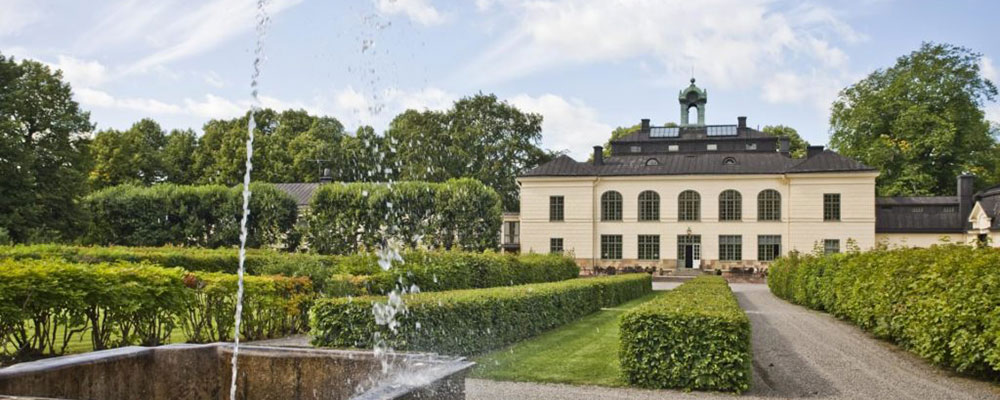 UGL training on Nasby Castle (Näsby Slott) - the historical setting with beautiful views
Nasby Castle, which is the place for this UGL training, is located about 20 minutes by car, outside of Stockholm. The castle was built by Nicodemus Tessin the Elder (who also designed the Drottningholm Court) on behalf of Peder Larsson Sparre in 1665.
After a fire in 1897 the castle was rebuilt using the original blueprints from 1905.
Since 1994, Nasby Castle has been a modern conference center in environments that are listed as a cultural heritage. There are a total of 16 conference rooms and 10 meeting rooms.
In the carefully restored restaurant, the chefs put great effort on using good ingredients and provide a menu of high quality.
Accommodation during your UGL training
There are a total of 44 rooms, of which 38 are single rooms. All rooms are equipped with private bathroom, toilet, shower, hair dryer, alarm clock, telephone and TV. Wireless Internet is available in every room.
During your UGL training you are accommodated in a single room.
How do I get there?
It is possible to use public transportation to Nasby Castle by taking the commuter train called "Roslagsbanan" in direction to Nasby Park (from the train station called "Tekniska högskolan (Technical University)/Östra station (East Station)"). If you get off the train at Nasby Allé station, you will soon see the gates and the road leading up to the castle.
If you are traveling by car, it takes about 15 minutes from Stockholm City, 35 minutes from Norrtälje or Stockholm-Arlanda Airport. Detailed directions can be found at Nasby Slott's website listed below.
More information
Detailed information about the location, or the facilities, can be found at Nasby Castle website: www.nasbyslott.se.
On your left hand side, you will find a link for "In English".