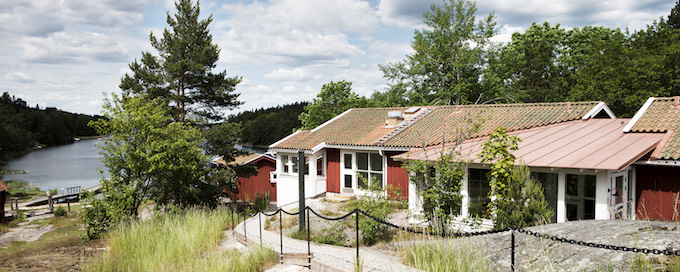 Stockholms beautiful archipelago can be experienced at the Skeviks Gård resort on Värmdö, 25 minutes from Stockholm City. You arrive either by land or with boat taxi from for example Nybrokajen in Stockholm.
Here you participate in your UGL training surrounded by red houses with white corners that are embedded in the harmonious archipelago landscape of Skeviken. Even though the facility has a heritage from the 1500s the course facilities are the modern kind.
Accomodation during your UGL course
Even the 67 hotel rooms are inspired by the archipelago with decorations made from driftwood. The hotel rooms are located in the three large wings and in seven smaller separate houses which all have a small lobby for social gatherings.
How to find your way to Skeviks Gård
If you are travelling by car from Slussen in Stockholm you drive along Stadsgårdskajen and over the Danvik bridge in the direction of Nacka. Värmdöleden, road 222, will take the 14 kilometers to exit marked "Norra Lagnö, Skevik och Insjön" which is your exit. Drive on that road for a about one kilometre before you reach a sign that says "Skevik, Norra Lagnö och Nacka Golfklubb". Turn there and follow that road for about four minutes until you arrive at Skeviks Gård.
I you travel by bus, take bus number 474 from Slussen to Gustavsberg. When you arrive in Gustavsbergs Centrum, swith to bus 424. Get off at the stop called "Skevik". From there it is a 200 meter walk to Skeviks Gård.
Learn more about Skeviks Gård
To find out more about Skeviks Gård, including their cooperation with taxi companies, please visit their website at http://www.skevik.se/index.php/en/.